Two people have been shot dead by a gunman at an entertainment complex in Jacksonville, Florida, police say.
They named the killer as David Katz, 24, from Baltimore, who then shot himself dead at the scene. No other suspects are being sought.
Eleven people were injured in the incident.
The shooting happened during a video game tournament being held at Jacksonville Landing, a large shopping, entertainment and dining complex.
Katz used only one hand gun, the police said, according to their investigations so far.
Police refused to confirm local media reports that he began shooting after becoming angry following a loss at the gaming tournament.
Florida has seen several mass shootings in recent years, including at the Pulse nightclub shooting in Orlando in 2016, when 49 people died, and the Marjory Stoneman Douglas School in Parkland in February this year, when 17 people were killed.
What happened?
Gamers were playing the American football game Madden at the GLHF Game Bar in Jacksonville Landing when shooting erupted on Sunday afternoon.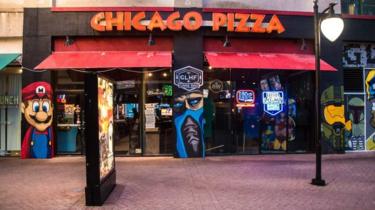 Many shots can be heard in a video that appears to show the event being streamed online on the Twitch platform.
Drini Gjoka, a 19-year-old player taking part, described the shooting in a series of posts on Twitter, calling it "the worst day of [his] life".
He tweeted that a bullet had hit his thumb.

People fled for shelter when the shooting began and police appealed to them to stay calm as Swat teams checked the area for possible accomplices before it was confirmed that only one gunman had been involved.
"There were nine victims transported by JFRD (Jackonville Fire and Rescue Department) to area hospitals. Some of those have gunshot wounds. There were two additional gunshot victims that self-transported themselves to local hospitals," said Sheriff Mike Williams.
The victims are not being named until their next-of-kin are informed.
EA Sports, the company that owns Madden and approved the competition, said it was working with the authorities to gather the facts.
It sent its sympathies to everyone involved in the "horrible" situation.